Top cryptocurrencies I decided to watch

In the beginning of January 2018 I made some research online to see which cryptocurrencies I could/should be buying, which cryptocurrency might have the most potential to make some good money by the end of the year. My list looked like this - Monero, Neo, Cardano, Ripple, Iota, Bitcoin cash, Ethereum, Aragon, Blocktix, Litecoin, Raiden, Synereo, Electroneum, Zcash, Dash, Request, OmiseGO, RaiBlocks.
Now, a bit more than 5 months later, let's see what has happened to all of them.
Monero
In the beginning of the year it was at $402, now it trades at $217.92. Glad I didn't actually buy it.
Neo
It started from $98.81, now it's at $68.57. So far, I choices wouldn't have been too good.
Cardano
From $1.17 to $0.277.
Ripple
From $3.16 to $0.749.
Iota
From $4.06 to $1.98.
Bitcoin cash
From $2400 to $1,431.
Ethereum
From $975 to $735.
Aragon
From $6.09 to $4.29.
Blocktix
From $1.94 to $0.55.
Litecoin
From $241 to $147.
Raiden Network Token
From $6.49 to $1.74.
Synereo
From $0.99 to $0.25.
Electroneum
From $0.086 to $0.024.
Zcash
From $590 to $363.
Dash
From $1221 to $443.
Request Network
From $0.77 to $0.21.
OmiseGO
From $19.81 to $14.38.
RaiBlocks/Nano
From $32.73 to $6.52.
As you can see, the first half of this year has been very bearish in crypto market. Right now Consensus 2018 is happening, the
blockchain technology summit
, we'll see if that changes the market or not.
While I'm quite happy I didn't actually buy any of these as all of them have lost anywhere from 1/4 to 8 times of their value, right now might be the best time to actually get in the game.
---
more in cryptocurrencies
Why is Consensus 2018 important?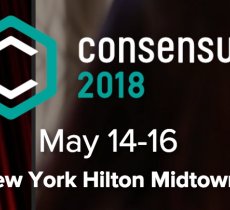 Consensus 2018 is the 4th annual blockchain technology summit which is happening now in New York Hilton Midtown (started yesterday May 14, ending tomorrow Ma