Related currency pairs - correlations between currency pairs


When
trading forex
, you will notice that some currency pairs seem to move in the same direction at the same time. Which means that those currency pairs are related to each other. Sometimes when you see one of the related pairs move and the other not (yet), there might be a good time to trade. Which of the pairs you will base your trade decision on is of course already a more difficult question - you just need to follow the charts and make your own decisions.
If you're not trading yet, but would like to give it a shot, feel free to
sign up with this broker
, considering it's perfect for beginners and you can deposit ANY amount with Bitcoin or Litecoin without even sending them your ID.
Currency pairs that are usually moving in the same direction
GBPUSD/USDJPY
EURUSD/GBPUSD
USDCHF/USDJPY
AUDUSD/GBPUSD
AUDUSD/EURUSD
AUDUSD/GOLD
CADJPY/OIL
Currency pairs that are usually moving in the opposit direction
AUDUSD/USDJPY
EURUSD/USDJPY
GBPUSD/USDJPY
GBPUSD/USDCHF
Obviousy, it does not mean synchronous movements, instead often one pair can indicate a change soon after in the other.
---
more in Trading
What is the best anonymous forex and crypto trading platform?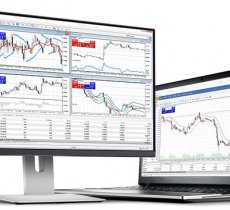 If you are looking for the best forex and crypto trading platform or rather broker, I have found one I'm using myself, which offers bitcoin deposit option with no minimum, and no authentication needed. Plus of course, low trading fees.